Bob Baker's The Buzz Factor
Music marketing tips and self-promotion ideas for independent songwriters, musicians and bands.
Bob Baker's Podcast of Self-Promotion Tips and Inspiration for Musicians, Artists, Writers and Creative People of All Kinds
---
43 - How to Create a Buying Frenzy
On this episode we delve into the psychology of crowds and the triggers that motivate consumers to buy your music, books, and more. I share an eye-opening sales experience I had years ago, along with a great tip from a savvy musician.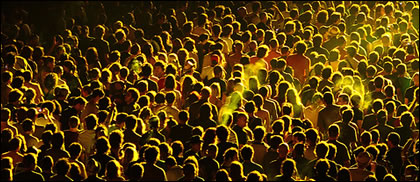 Running time: 7:26 minutes. File size: 6.8 megs. Format: MP3 (128 kbps).
There are three ways to enjoy this episode
:
1)
Listen now using this streaming audio player:
2)
Download the MP3
3)
Subscribe to the Podcast
Stuff mentioned during this episode
:
The show intro music is the beginning groove from "Fickle Mind" by
Heidi McCurdy
. Thanks to
Angela Stevens
for the great voice-over work.
Connect with
Bob on Google+
posted by Bob Baker @ 4:24 PM 0 comments


---
---
FREE Music Tips Ezine
About This Podcast
Feed Me
What About Bob?
Bob Baker is an author, indie musician and former music magazine editor dedicated to showing musicians and authors how to get exposure, connect with fans, sell more music and books, and increase their incomes.
Bob's Books
Guerrilla Music Marketing Online
129 Free & Low-Cost Ways to Promote & Sell Your Music on the Internet
55 Ways to Promote & Sell Your Book on the Internet
A easy-to-read overview of online marketing
Guerrilla Music Marketing Handbook:
201 Self-Promotion Ideas for Song-
writers, Musicians and Bands on a Budget
Connect with Bob on
Previous Posts
Favorite Music Blogs
Copyright 2004-2013 Bob Baker